This weird thing happened when I laid my eyes on my old American Girl doll last year while visiting my family… Her little face looked just as I remembered, I felt a blush of shame as I touched her trimmed hair. Yes, I gave my doll a hair cut, whoops. Her outfit still intact. She had lived on my mother's mantel for quite a few years. For a long time I kind of rolled my eyes at her the way a newly blossomed young miss does at all her old "toys". But this year, for the first time I looked at her and realized, I was about to become a child myself again. I grabbed her, brushed her hair with my fingers, and hurried to show her to my daughter, Little Lue, who at the time was just over the age of 2.
Her eyes light up as she reached for the doll, and she attempted to grab her by her hand as she would a playmate. And of course, my poor doll was dragged around by one arm as her body awkwardly flopped around. My daughter made exaggerated struggling sounds as if she were trying to carry a cinder block around. Obviously, she was still much too young to play with my old Josefina.
After that visit, I asked my mother to mail me my doll. Josefina would then adorn Little Lue's room… Much as she did in my mother's home. But this time, this time I would look at her with the eagerness of a child waiting for Christmas. I knew Little Lue would soon be making that leap that often comes at 3 years of age where they are suddenly so much more incredibly  child like.
And between pregnancy and a new baby and temporarily moving to Florida and Christmas and… Wow! How did all that happen so fast?!
Well between all that Little Lue has indeed grown.
And then… The giant Facebook marketing train ran me over LOL!!!
FB started flashing on the top of my screen that an American Girl store was opening in Orlando. A measly 1 hour drive from where we are staying. And damn it all to hell… I had to go.
Memories of me and my neighbor, who had quite the collection, started swimming around in my head. I cursed the fact that I had no way to retrieve my Josefina, who is still waiting patiently for our return. Little Lue will be nearly four once we return.
So we went. With Christmas in the air, we visited the store and walked out with some Bitty Twins and accesorries.
And something kind of magical unfolded. Little Lue had never really shown much interest in dolls… Heck she rarely shows much interest in anything… But she had started to play pretend, coming up with her own stories and games and she had shown some immensely motherly instincts towards her new sister. I knew she would enjoy a doll in a way she hadn't before… And perhaps most importantly… I wanted to play with the dolls.
Perhaps Little Lue wasn't enchanted by the adorable little faces as I was, but she was ecstatic at me playing pretend with her. She wanted me to make the voices for her new dolls, make them dance, make them sing, make them eat, and run, and play. And it was incredibly easy for me to enjoy myself doing so.
I would find myself brushing the doll's delicate hair and styling it, changing their tiny clothes…
But I digress.
The point is… These dolls have a small amount of magic in them. They made me time travel to memories long forgotten. They made me feel like a little girl again. They made me want to be a little girl again. And they made me realize that I have a little girl now. Not a baby, or a toddler, but rather a full blown child, a tiny person, a kid.
Goodness where did the time go?
When did I wake up and stop playing pretend?
When did I wake up and become a mother?
And suddenly it's my own daughter who has just blossomed into that magical time… childhood.
And in this day and age where dolls are made to look like… well… this…
And (for variety?) this…
And, of course, this…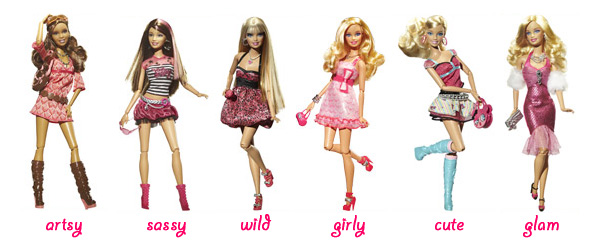 (I was quite the Barbie lover myself as a kid, but as an adult, it's difficult to bring myself to look at them as fondly as I once did.)
And then there's the American Girls…
Just look at them! Not even a hint of puberty on them.
I have become enamored at the beautiful child like faces of these dolls. Dolls that look like little girls. Dolls that do little girl things. Dolls that are beautiful without a face plastered full of make up, or wearing questionable clothing choices.
Somehow between my nostalgia and my new found apreciaton for the doll line, I found myself falling down that rabbit hole that is American Girl. And I'm ok with that!
I've yet to be reunited with my Josefina, who I'm excited to reclaim and share with my daughter now that she is old enough to get it. I've also slowly acquired a few Craigslist finds (did I mention the rabbit hole?). A Bitty Baby for the Littlest Princess, who I must confess seems to like dolls more than I thought infants could like dolls.
And just this week, I couldn't help myself when we saw this sweet dolly up for sale…
I was hoping my Josefina would end up being Lue's first "big girl doll", but let's face it, I suck at waiting.
As we were getting in the car to go pick her up I showed her to Little Lue and asked her what her name should be. She immediately decided her name was Ariel.
Much to our stuffed Donatello's dismay, Ariel has been toted around ever since she arrived. Her hair silky smooth as if she were brand new and her clothes that can only be described as a late 90's explosion (Hello long jean skirt with cargo pockets! HA!), but she's just gorgeous and endearing. I can't help but smile at the sight of Little Lue clutching Ariel to her chest, telling me how she needs her shoes and jacket to go out.
Ahhhh… Let the magic commence!
 [amazon template=banner easy]